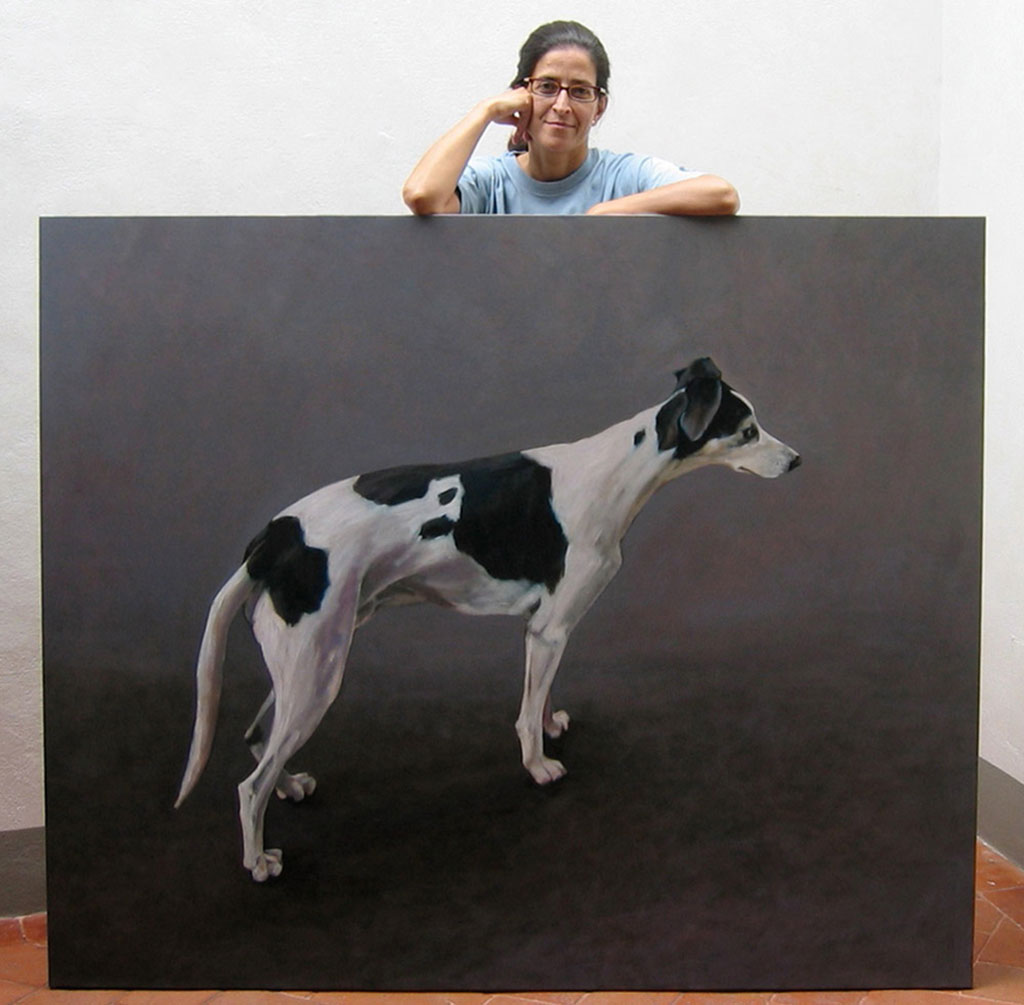 Patrice with painting of The Gardener's Dog
I am a painter and I work mainly with oil colours. In all of my paintings I strive to capture the essence of my subjects. My aim is to transform a basket, a butterfly or a bird, a vase of tulips, a cypress tree or a person into a statement in paint that transcends reality. Subjects are chosen for their personal significance, their mystery, their humanity, their form.
Light and colour are the vital components of my painting. They are at the heart of my work. Forms are achieved through building up and breaking down layers of paint. The complexity of the paint surface and the depth of the paint are integral. As many as twenty to thirty layers of paint are used. Light is the departure point for all of my work. Even in my most complex paintings my desire is to create richness with the paint but to keep the colours and light fresh. I am careful to observe forms but feel free to do what needs to be done so that the paintings are a visual reflection of my thoughts and emotion.
My life and work is divided between England and Italy.  My husband and sculptor, Richard W. Boardman and I have restored a wonderful space – an antique sail loft that houses an exhibition space and our studios in Wivenhoe.
I was born in Massachusetts, USA and studied painting in Boston and Paris and then obtained my graduate degree in painting at Villa Schifanoia in Florence. I have held more than 20 solo exhibitions and participated in many group exhibitions in London, Italy, the USA and Mauritius. Among my exhibitions are: Images from the Garden, Villa Schifanoia, shown in both Florence and in Boston 1985. Family Portraits, Boston 1986. New England Landscapes, Martha's Vineyard 1987. The Gardens of Villa I Tatti, exhibited in Florence, Boston and California 1990. Objects & Window Studies, London 1993. Recent Paintings, London 1998. Objects in Light, London 2000. Recent Paintings, London 2004. Images from the Garden – Villa La Pietra, Florence and London 2006. New Paintings, London 2008. Classical Inspiration, London, 2010. The Nature of Things, Vermont, USA 2011. Collections, shown both at the Circolo degli Artisti, Casa di Dante, Florence and in London, 2013. Colour & Light, Ekla, St. Antoine, Mauritius, 2015, New Work at Gallery 8, London 2018 and New Work, Ekla, St. Antoine, Mauritius 2019.  An Exhibition of New Work of Object & Landscape Paintings at my gallery/studio, Wivenhoe, UK 2022. My work is in private and corporate collections worldwide.
Portrait commissions include: V.V. Veeder, QC – a commission for the new headquarters of the IDRC (International Dispute Resolution Centre) London 2021. Mr. Richard Miller, The Durrants Hotel, London, 2013. Emma & Maddelena Agostini Ganucci Cancellieri, Florence 2012. Mrs. Miller for the Durrants Hotel, London 2011. Judge Stephen Schwebel, President of the UN International Court of Justice, The Hague, Holland (1998) and Sir Charles Chadwyck-Healey Bt. Cambridge, England (1994).
I have taught for New York University, Florence, Fortman Studios, Florence, Syracuse University, Florence, Minnetonka Centre for the Arts, Minnesota, Regis College, Massachusetts .